---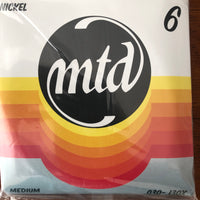 With MTD Electric Bass Strings, any bass player can enjoy some of MTD's engineering on their MTD or any other bass. 
The MTD Bass Strings are the same used on Michael Tobias's Basses since 1994.  MTD Custom Wound Stainless Steel electric bass strings are designed from input received from some of the finest bass players in the world and deliver a bright, brilliant, distinctive tone with great feel, tonal definition and a strong punch. 
The Low-B features an extreme taper.  Extreme tapers have a tapered section with a very fine winding over the core.